Antigravity humidifier-36dB Quiet Air Humidifier
Regular price
Rs. 2,699.00
Regular price
Rs. 4,999.00
Sale price
Rs. 2,699.00
Unit price
per
Sale
Sold out


Unleash a mesmerizing spectacle of anti-gravity droplets that will elevate your space to a realm of tranquility and well-being. The Madsbox™ Anti-Gravity Humidifier defies the laws of nature, creating a captivating visual symphony that will soothe your senses and enhance your ambiance.
As water droplets ascend through the air, defying gravity's pull, they create a captivating spectacle that is both mesmerizing and calming. The gentle glow of the humidifier illuminates the droplets, creating a mesmerizing display that is sure to captivate anyone who witnesses it.
But the Madsbox™ is more than just a visual masterpiece. It is also a powerful tool for improving your air quality and promoting well-being. By adding moisture to the air, the Madsbox™ helps to relieve dryness, promote skin hydration, and reduce the spread of airborne contaminants.
Inhale the benefits of fresh, clean air as you immerse yourself in the tranquil ambiance created by the Madsbox™. The gentle hum of the humidifier is barely audible, creating a peaceful and relaxing atmosphere that is perfect for unwinding after a long day.
With its sleek and stylish design, the Madsbox™ is a beautiful addition to any décor.
Whether you place it in your living room, bedroom, or office, it is sure to add a touch of elegance and sophistication to your space.
Benefits:
✅Mesmerizing anti-gravity water droplets create a captivating visual display
✅Improves air quality by adding moisture to the air
✅Relieves dryness, promotes skin hydration, and reduces the spread of airborne contaminants
✅Creates a tranquil and relaxing ambiance
✅Sleek and stylish design complements any décor
Specifications:
Material: ABS + Silica Gel
Includes: USB Cable
Product Size: 4.7" x 4.7" x 9"
Product Weight: 0.99 lb
Water Tank Capacity: 27.05 oz
Running Time: 8 hours
Transform your space into an oasis of relaxation and tranquility with the Madsbox™ Anti-Gravity Humidifier. Order yours today and experience the magic of anti-gravity!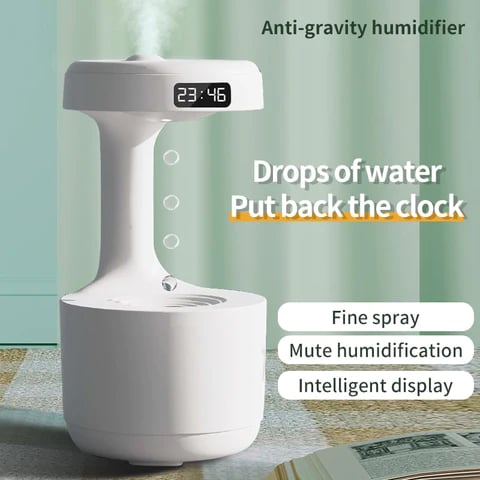 Specifications:
Material: ABS + Silica Gel
Includes: USB Cable 
Product Size: 4.7" x 4.7" x 9" 
Product Weight: 0.99 lb 
Water Tank Capacity: 27.05 oz
Running time: 8 hours
Shipping Information

-Free shipping on all orders.
-From dispatch to delivery of the shipment usually takes 2-7 day working days